Did you know that this year BANG is 40 years old? Help avert a mid-life crisis at our
Annual General Meeting,
Tuesday 9
th
April 2013
BANG is YOUR local residents' group. The AGM is your opportunity to discuss:

Why Broomhill still needs BANG

What we can achieve together

How we can get things done

Our aspirations for the future

How easy it is to get involved
The AGM will update you on our activities over the past year and recruit volunteers to form the BANG Committee for the coming year. The new Committee will meet in May to decide how they want to work together and who will do what. Joining the Committee is not onerous and new members are badly needed for BANG to thrive.

If you are unable to attend the AGM but interested in being part of our Committee for 2013-14, please contact the Secretary to put your name forward.

Attending the AGM is the easiest way to support our work through subscriptions or donations!

BANG's membership subscription (suggested £10 per household per year) is entirely voluntary and we now collect subscriptions at the time of the AGM only. If you intend to come to the AGM you can simply pay by cash there. But if not, please follow this link for alternative ways to pay.

Subscriptions are our only source of finance for BANG activities. Your subscriptions pay for our website, our stationery and our meeting room hire.

All of our committee members are unpaid volunteers, so your support is very important, indeed essential if BANG is going to be there for the next 40 years!


Our AGM will be held at the Broomhill Methodist Church on Fulwood Rd. Here's how to find us:
you can come in at either the front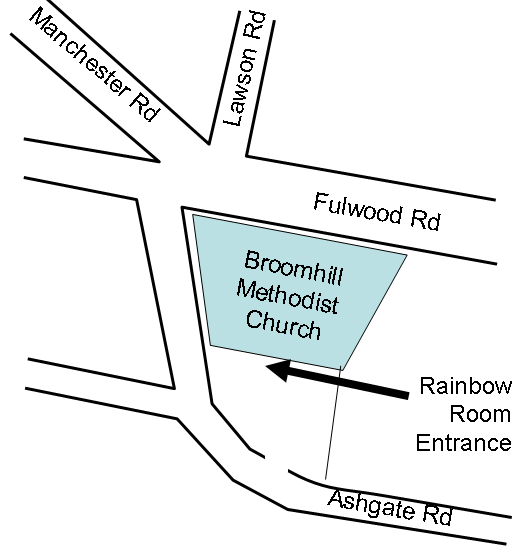 or the back of the church and follow the signs.
top